Animals Adopted in
the Month of October
Santa is coming to town! Does your four legged friend have their letters written yet?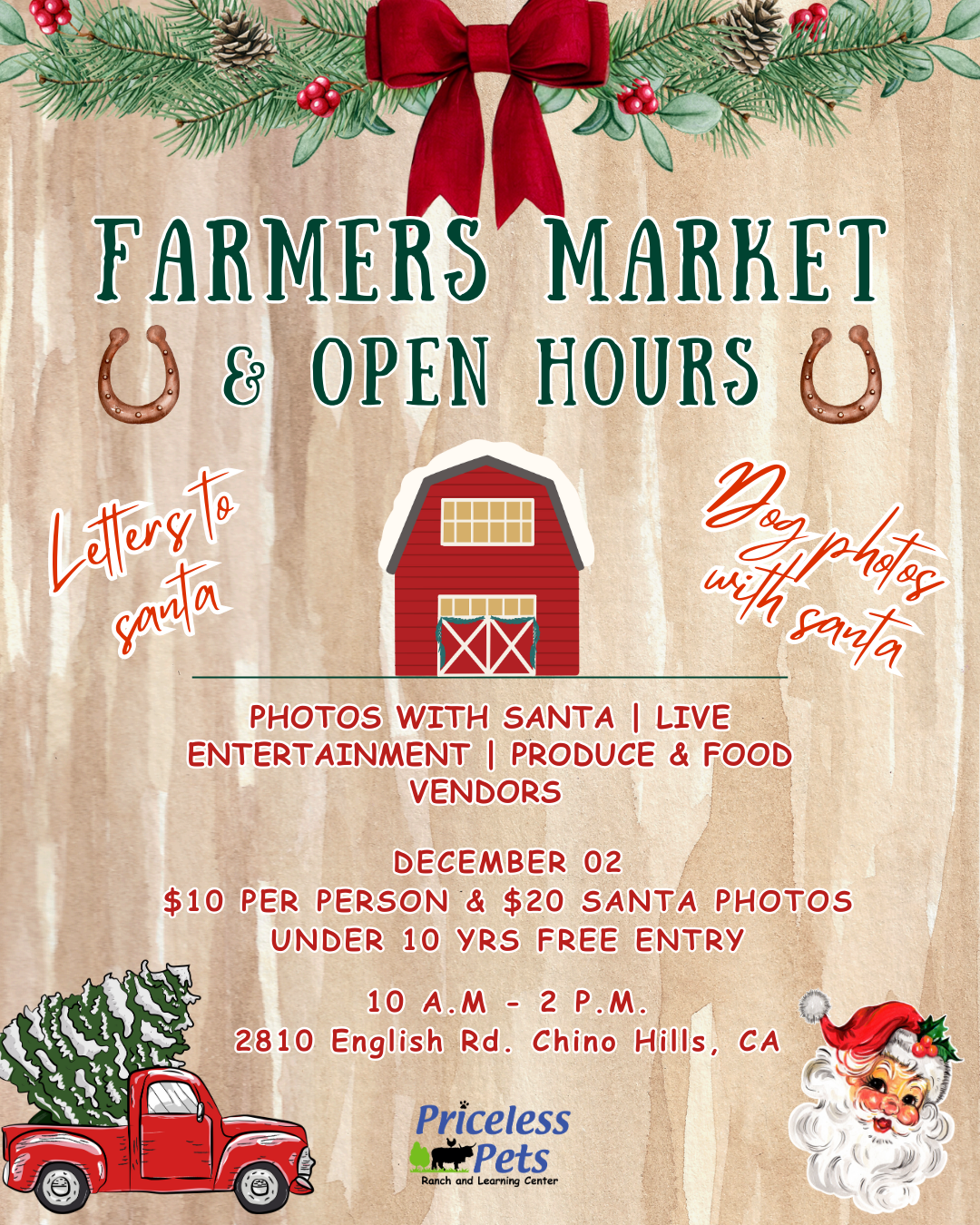 Priceless Pets Ranch
🎄✨ Immerse yourself in holiday magic at the Priceless Pet Ranch Christmas Extravaganza on December 2nd from 10:00 am to 2:00 pm! Join us at Priceless Pet Ranch for a joyful day featuring pet and child photos with Santa (from 10 am to 12 pm), taken by a professional photographer, and don't forget to bring your letters to Santa for a sprinkle of magic. Enjoy live performances, explore festive vendors, and meet our friendly ranch animals. Admission details include a $20 donation for a Santa photo session and $10 per person for Ranch/Farmer's Market access (children under 10 are FREE). Your contribution supports our mission of providing love and care to animals in need.🐾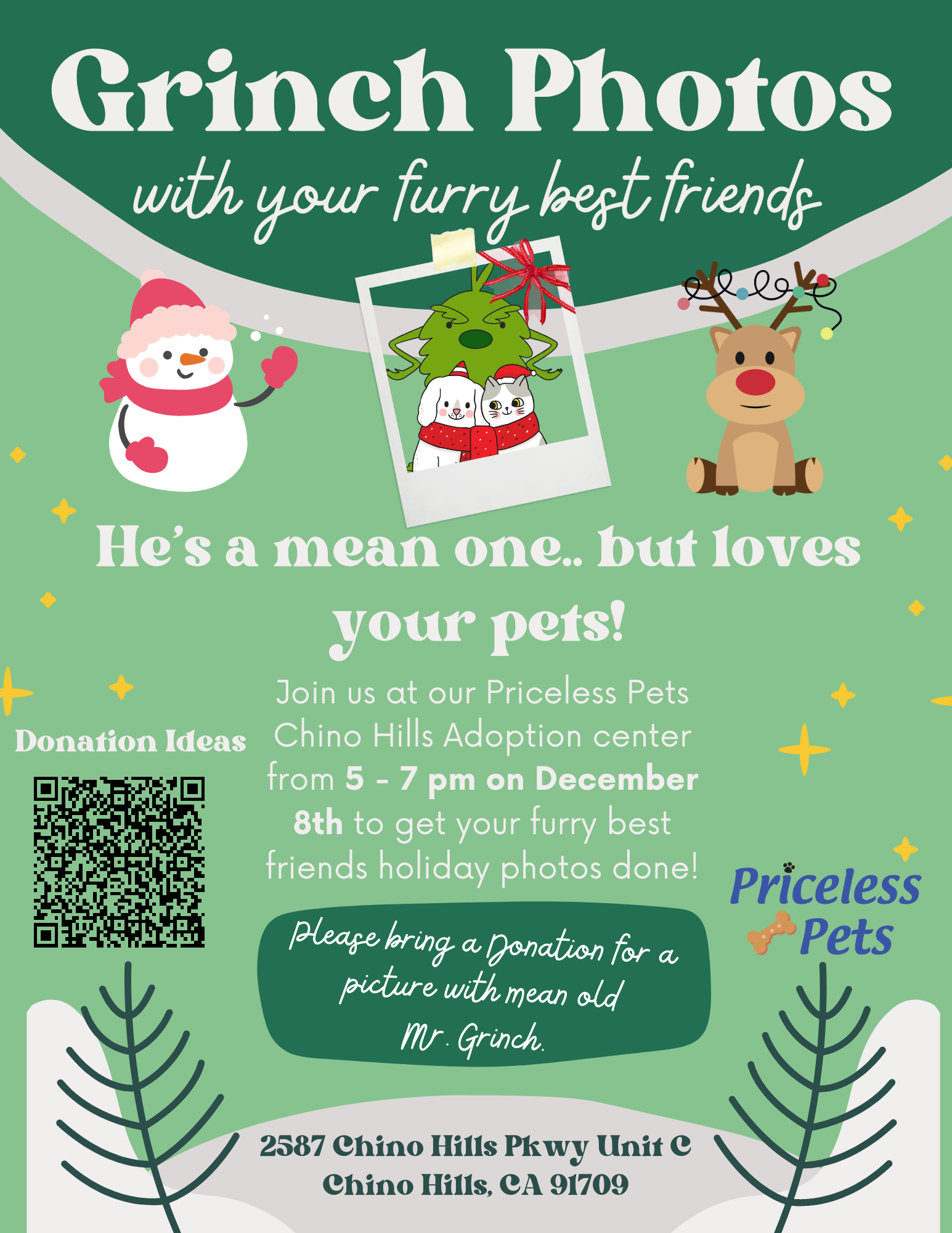 🎁❤️ Join us at our Chino Hills Adoption Center on December 8th from 5:00 pm to 7:00 pm for a heartwarming "Give the Gift of Love" Donation Drive & Photos with the Grinch event! Contribute to the well-being of our furry friends by bringing items from our donation wish list, including paper towels, bleach, and more. After your generous donation, strike a pose with the Grinch for a memorable photo opportunity.If you can't stay for the photo op, we welcome drive-by donations before or during the event hours. Your support makes a difference in brightening the holiday season for animals in need.🐾.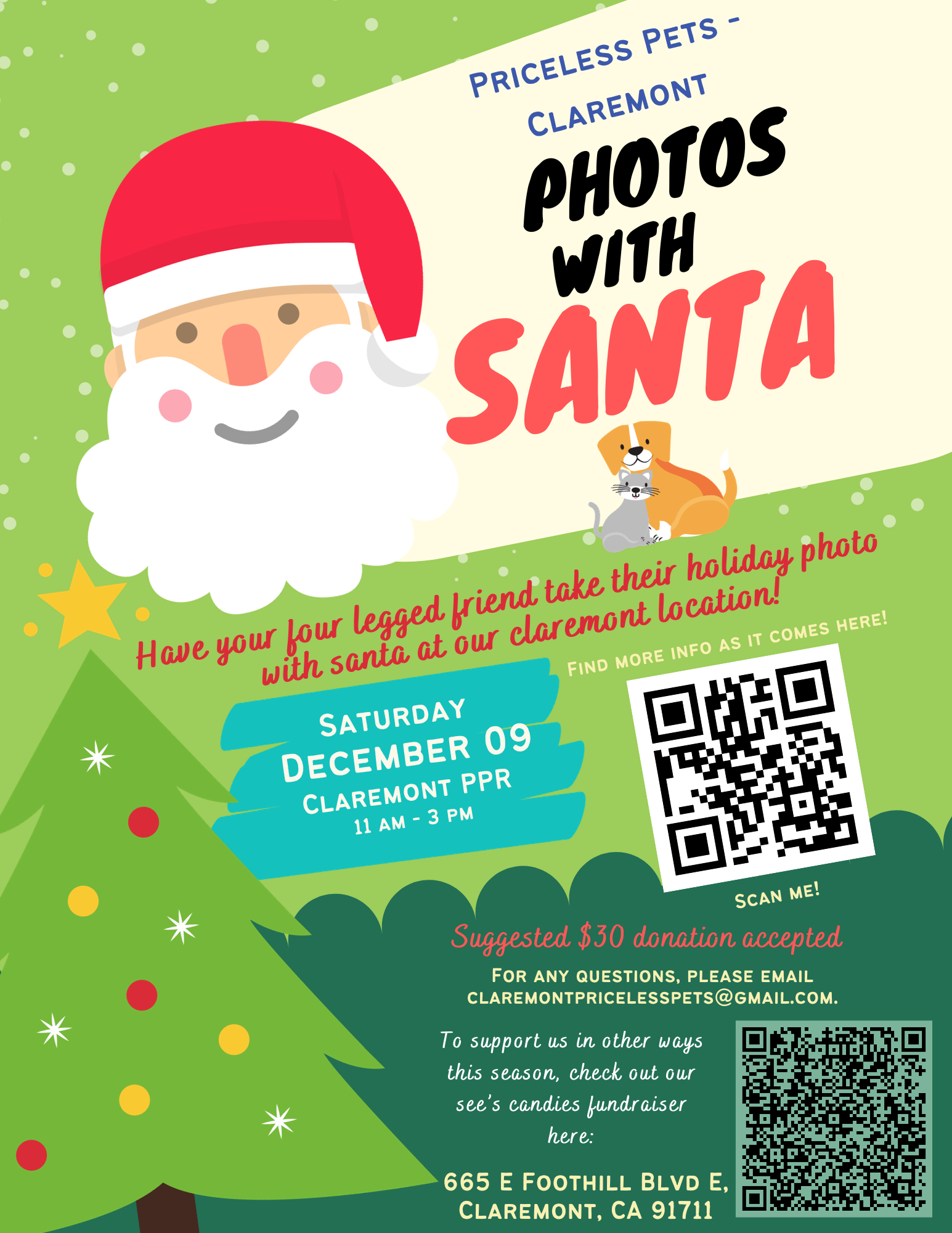 Claremont
🎄🐾 Join us at our Claremont Adoption Center on December 9th from 11 am to 3 pm, for a heartwarming "Photos with Santa for Pets" event! Santa Claus is taking a special break from the North Pole to pose with your furry friends. Enjoy a meet-and-greet with Santa and a professional pet photoshoots against a festive backdrop. A suggested donation of $30 will directly support our mission to provide love, care, and forever homes to animals in need. Bring your camera or smartphone to capture candid shots.🐾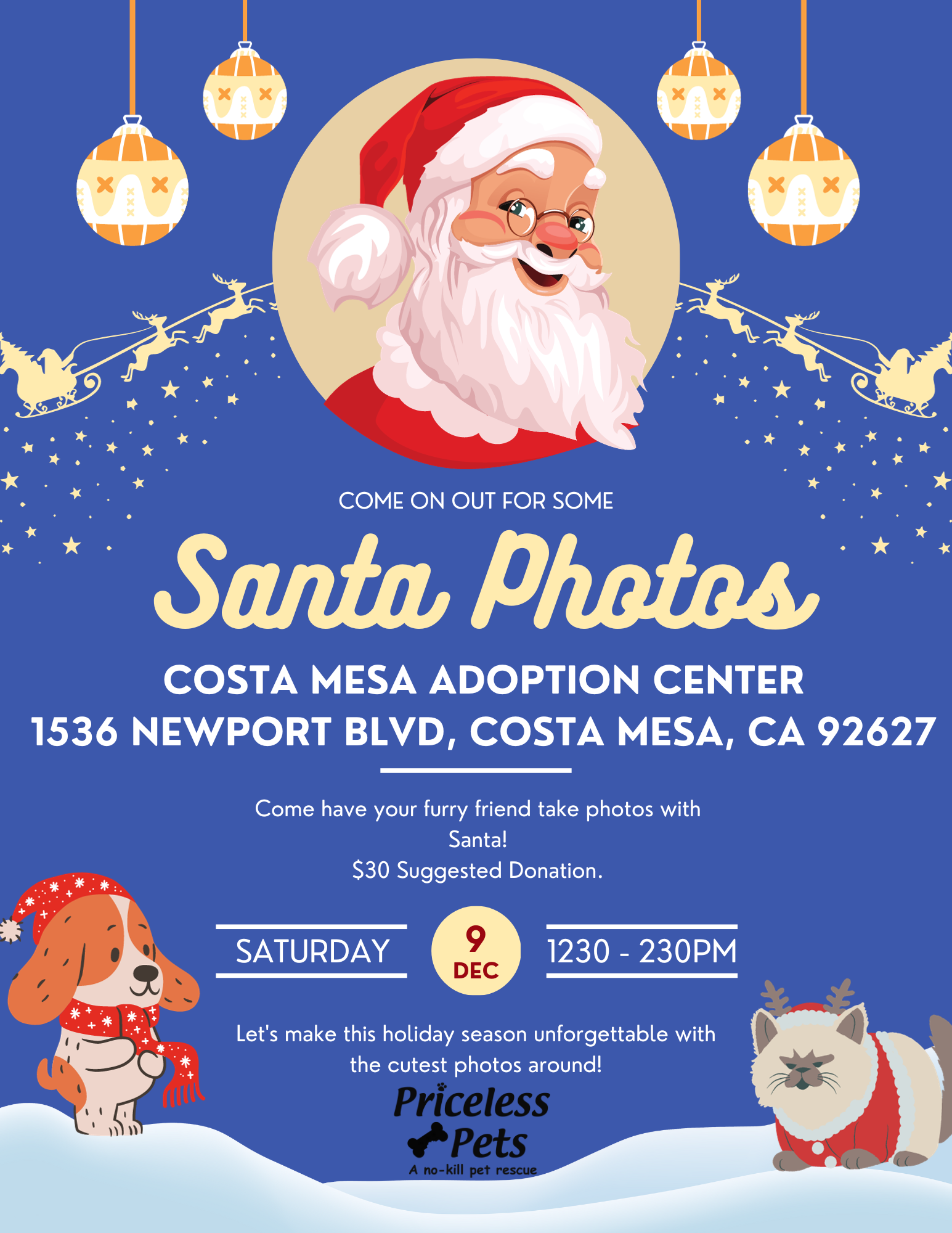 Costa Mesa
🎄🐾 Join us at our Costa Mesa Adoption Center on December 9th from 1230 pm to 230 pm, for a heartwarming "Photos with Santa for Pets" event! Santa Claus is taking a special break from the North Pole to pose with your furry friends. Enjoy a meet-and-greet with Santa and a professional pet photoshoots against a festive backdrop. A suggested donation of $30 will directly support our mission to provide love, care, and forever homes to animals in need. Bring your camera or smartphone to capture candid shots.🐾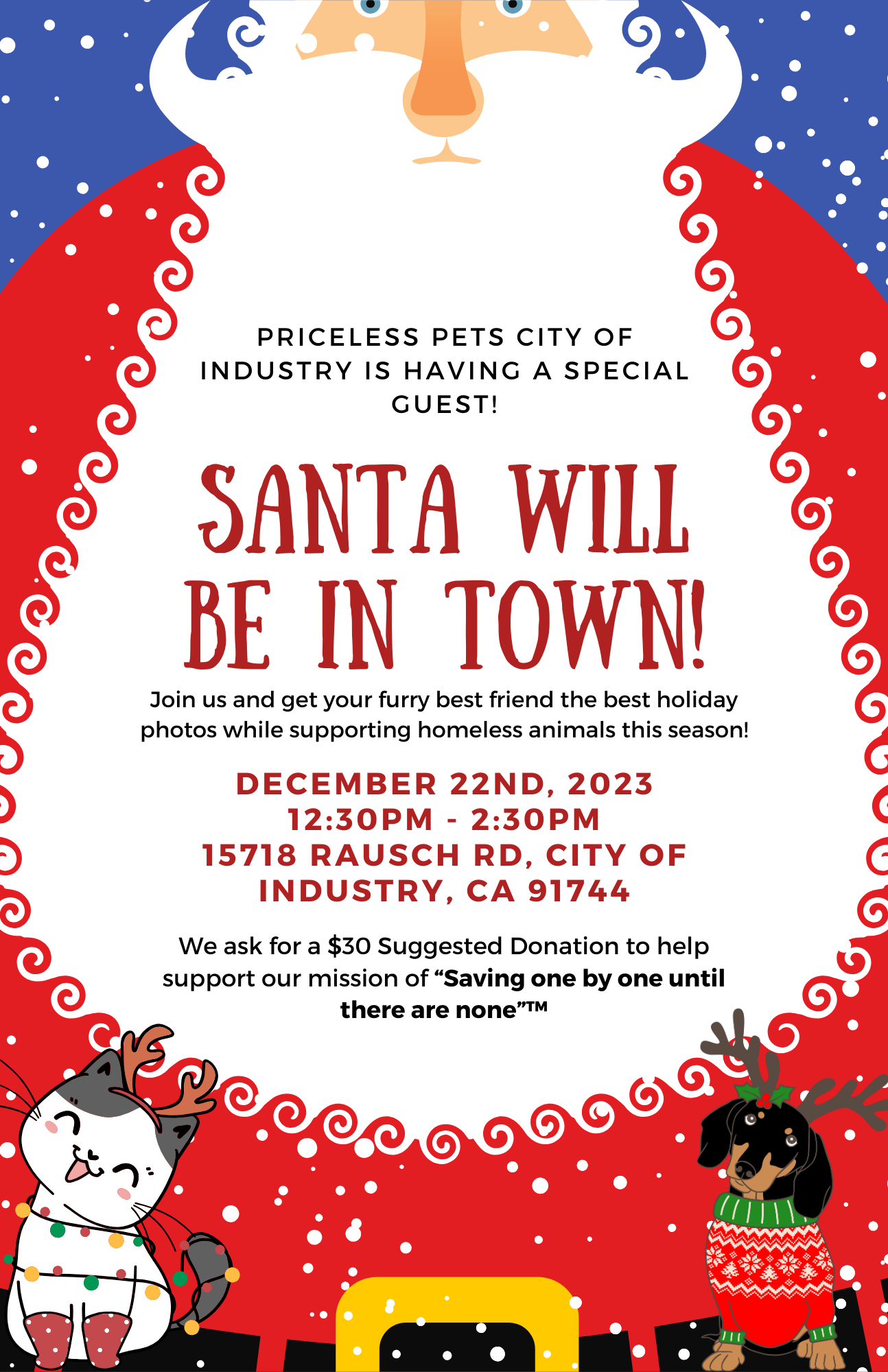 City of Industry
🎄🐾 Join us at our City of Industry Adoption Center on December 22nd from 1230 pm to 230 pm, for a heartwarming "Photos with Santa for Pets" event! Santa Claus is taking a special break from the North Pole to pose with your furry friends. Enjoy a meet-and-greet with Santa and a professional pet photoshoots against a festive backdrop. A suggested donation of $30 will directly support our mission to provide love, care, and forever homes to animals in need. Bring your camera or smartphone to capture candid shots.🐾