Program overview: Our hound program which has been around for over 7 years, stands behind the mission of saving one by one until there are none™ and rescuing, rehabilitating, and rehoming hound breed dogs throughout the United States. We coordinate, plan and receive hounds from across state transports, often from states like Kentucky, Oklahoma, Tennessee and other Southern States. We take in homeless, neglected, and abused at risk hound breed dogs, who were once in high kill shelters located where the breed is overly prevalent. We have also been involved in many large rescue missions regarding beagles and dogs who are at risk of being euthanized. We help find homes for these hounds, and give them a chance to find their forever homes on the West Coast through adoptions at one of our Southern California Adoption Centers.
Throughout this program, we have been able to rescue, rehabilitate and re-home over 3,000 hounds and every month, that number is growing!
What makes hounds special? 
Most hounds share the common trait of being bred for hunting, or trail sniffing. Hounds generally exhibit relentless loyalty to their humans, have genuinely curious and friendly attitudes! They also often do well with other dogs. Hounds are known for their loud bark (often sounding like a bay bark) and for their energy level. Throughout our 15+ years rescuing hounds, we have found they make amazing family dogs, get along well in a pack, enjoy hunting, camping, hiking and lounging on the couch! Consider a hound as your next best friend.
How you can help? 
We need you! Without your support and generosity for this program, we cannot continue to save hounds across the United States. When you donate to this transport program, you are donating directly to the life saving efforts to save hound breed dogs from an unknown fate and giving them a chance at a forever home!
Transport and medical costs are the largest cost associated with rescuing this breed of dogs. Many come to us malnourished, full of fleas and ticks, heartworm positive and not spayed/neutered or vaccinated. We take on the vetting costs on top of the fees we pay transporters to bring them to our locations in Southern California to find forever homes.
The cost to transport per hound is about $200. Please consider sponsoring a hound's transport or medical costs today!
ENVIGO BREEDING FACILITY MISSION
On February 11, 2022 we partnered with Kindness Ranch to rescue 150 beagles from a breeding facility in Virginia. We were able to save and bring home 120 beagles to our Priceless Pets locations for foster and adoption! The rest of the beagles went to Kindness Ranch in Wyoming to find their forever homes! Please watch and enjoy this video made by Brittnei Schaeffler (@brittneirae) to learn more about the mission! Thank you for watching and for your support – which allows us to continue our life saving work!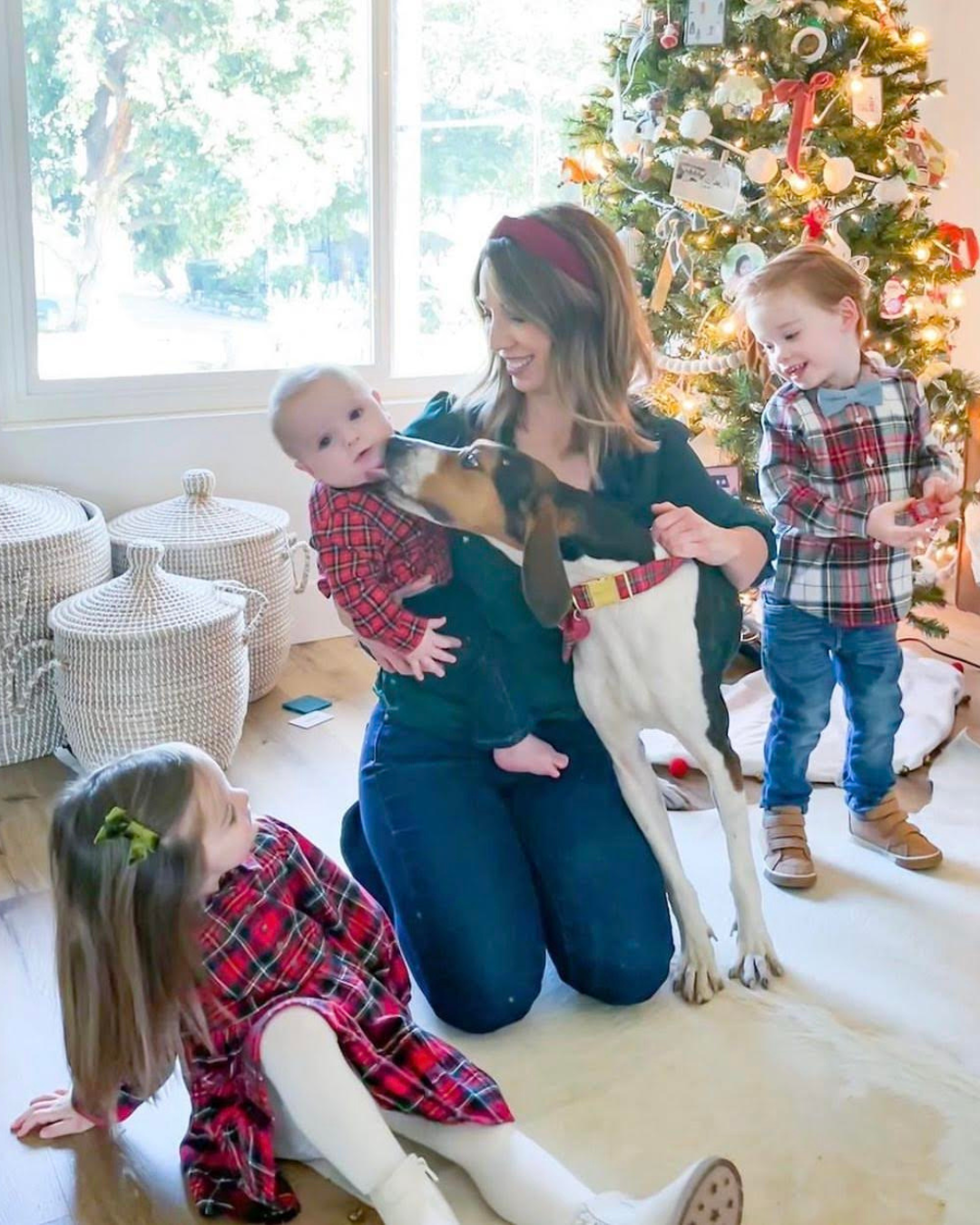 Ruth
"I will never get another dog. I never want to feel this way again." I. Will. Never. Those are the words I kept repeating. But then, in a moment of deep sadness, an idea presented something for me to consider: "Do you think that, maybe the thing that you're swearing off so adamantly is actually what will help you heal?" Every time I thought "I will never"… my grief grew worse. It felt hopeless and final. Instead, I tried saying "maybe someday" to see how that made me feel. A lot better. Instantly. Still though, I argued back "but I'll never love a dog as much as I love Liz." And the answer to that statement: "That's understandable. She was your first baby and she was by your side through some tough seasons. There will undoubtedly always be a hole in your heart for her." So, recently, I took to scrolling through the rescue profiles. I saw one and stopped. (I guess you can say I have a "type".) I looked at the name the rescue gave her: Ruth. I smiled. Okay, fine. I guess there actually is a dog name that I love as much as "Liz". (I was convinced I wouldn't like any other name as much.) 
Sometimes a heart transformation takes a very long time. Sometimes it really doesn't. Sometimes all it takes is surrendering just enough to say "okay, maybe." Maybe you're experiencing a greater loss than a dog this holiday season. I am so sorry. My hope is that, if the words "I will never" is what you're repeating to yourself, that you will try saying "maybe someday" and just see how that feels instead. Sadness and regrets, but also allowing joy and hope to share a place in your heart at the same time. 
Out of curiosity I looked up the meaning of the name Ruth: "compassionate friend". ❤️ Introducing my new friend, Ruth. 
Beesley
"Meet Beesley, formerly Clover. She was adopted in November 2018! She is from Oklahoma. She absolutely loves playing with every person and every animal possible. She loves swimming, being sneaky and eating everyone's shoes but makes up for it by cuddling and giving you every ounce of love she has. We love our sweet girl!"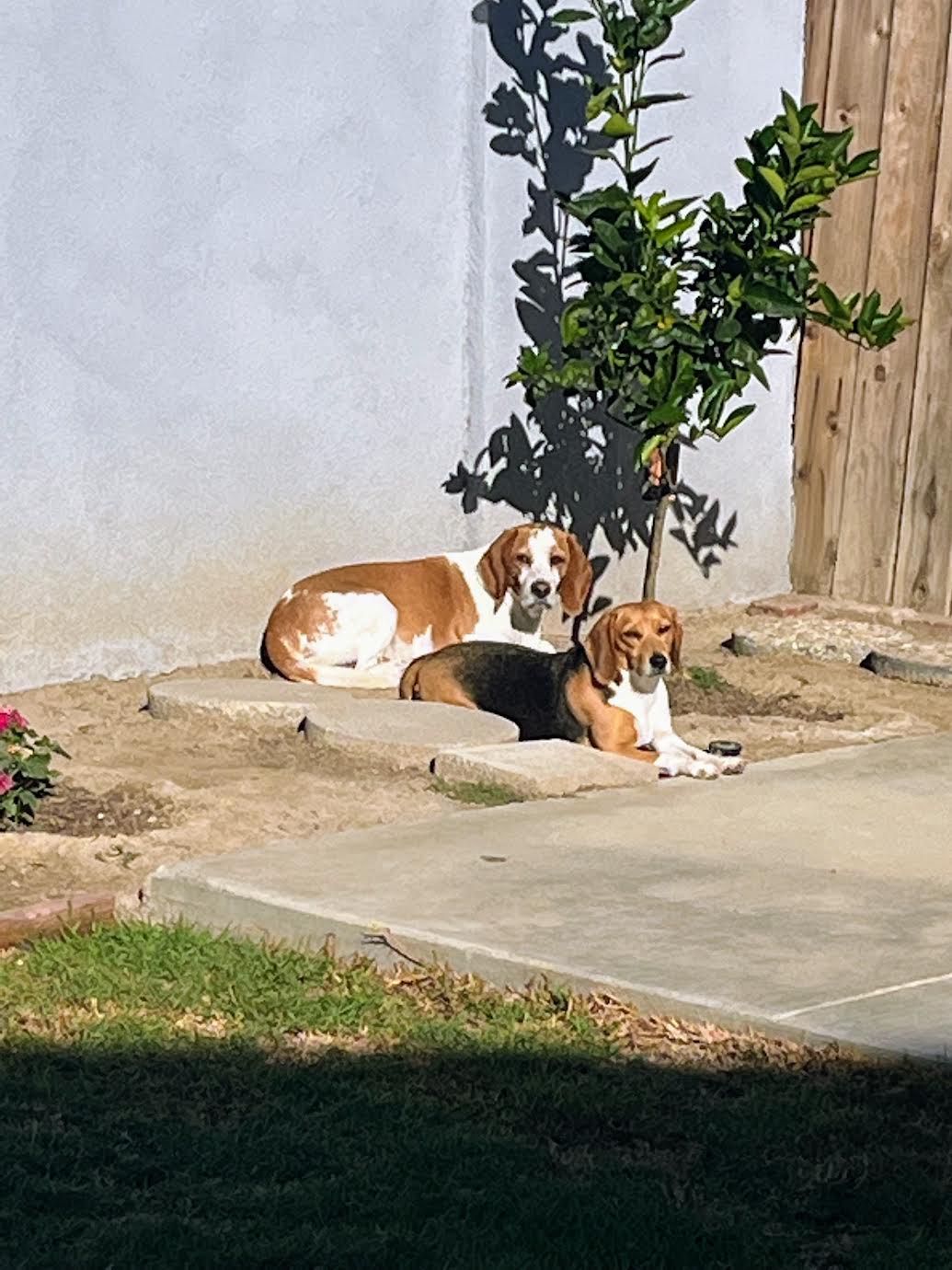 Joey and Minnie
"We had a beagle which we got from a breeder in 2007. He was such a good companion and a joy. Unfortunately he passed in 2018. I then dealt with NorCal beagle rescue as we lived up north and found Joey who was 18 months old and neglected. We moved here last year and my son and daughter-in-law sent me the beagles you rescued from Virginia. Joey needed a friend so we found Minnie. We have such a love for these hounds as they are so sweet and give unconditional love.  We also love the howl when they hear a siren, not sure if neighbors feel the same but we absolutely find them amazing!! Next month Bark Busters will be training both of them and we're looking forward to seeing the end results. Thanks ever so much for going in and saving these dogs:) You're a great organization."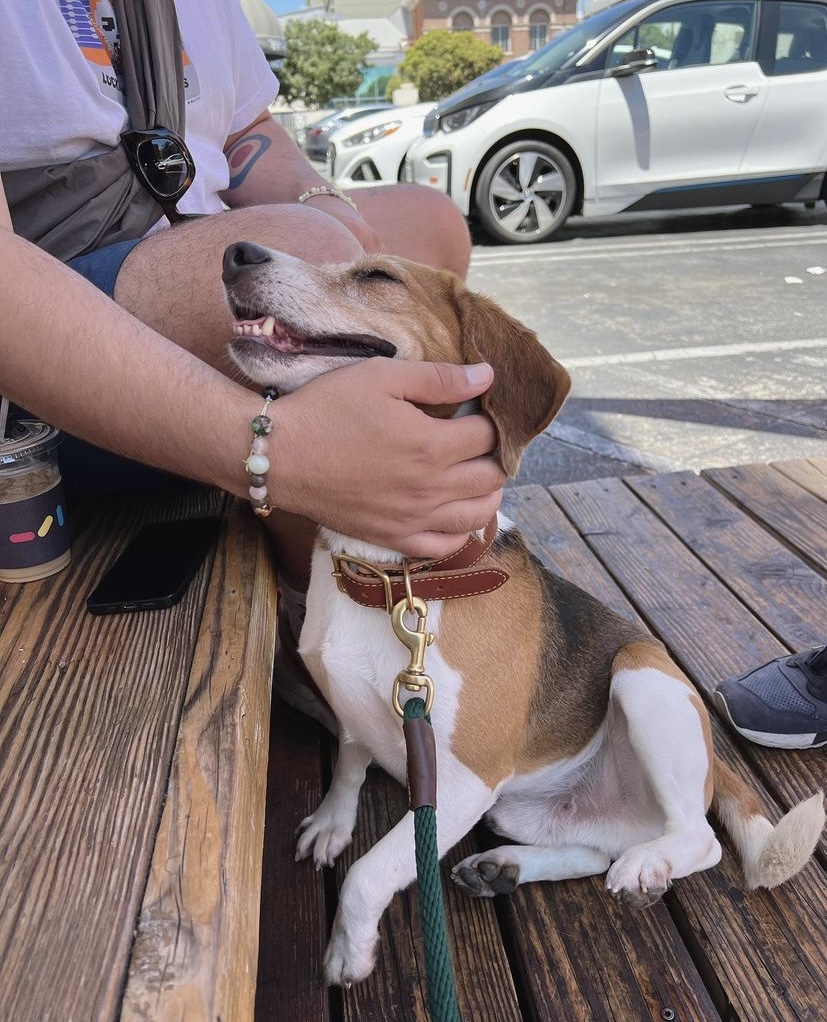 Oliver
"This sweet boy was one of the 200 Envigo Beagles rescued all the way from Virginia. He is now out of a cage and in his forever home. He is a happy boy and receiving so much love!"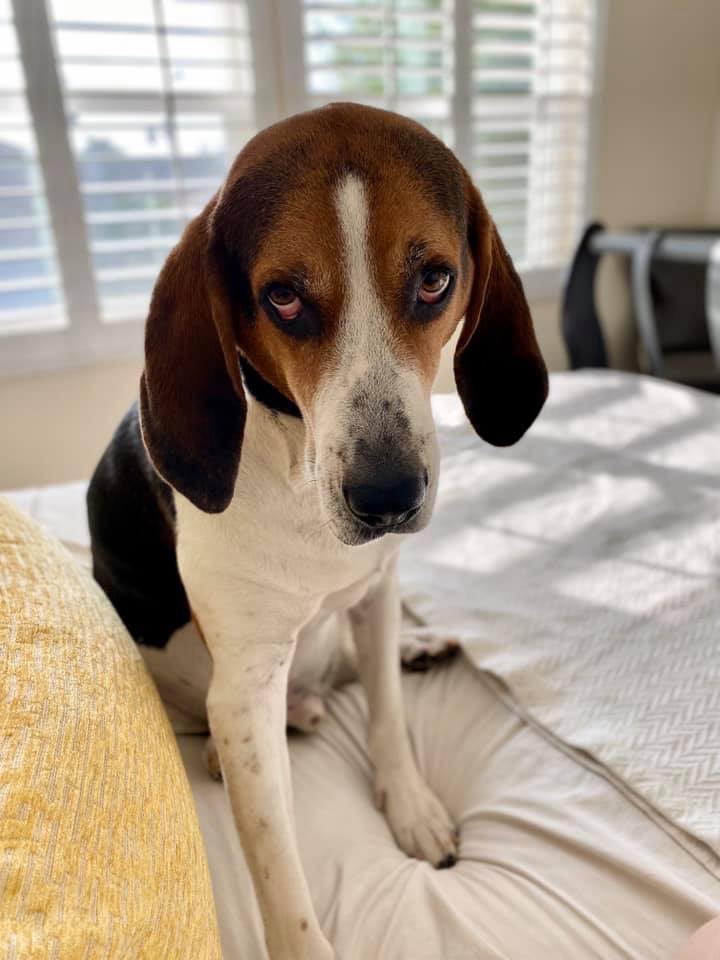 Sophie
"Meet Sophie! We adopted Sophie after she had been with Priceless Pets for a year! She is a bed hog, but I have been in bed with her all week as I have migraines. She only leaves my side to go potty and then right back to snuggling. When I eat a cracker in bed, I give her one too because I know she has not left my side to eat the entire time. All my life the dogs have been my husband's, but now I have a dog of my own. I call her shadow, and I sing to her, 'me and my shadow' because she never leaves my heels. I am so glad she is part of our family!"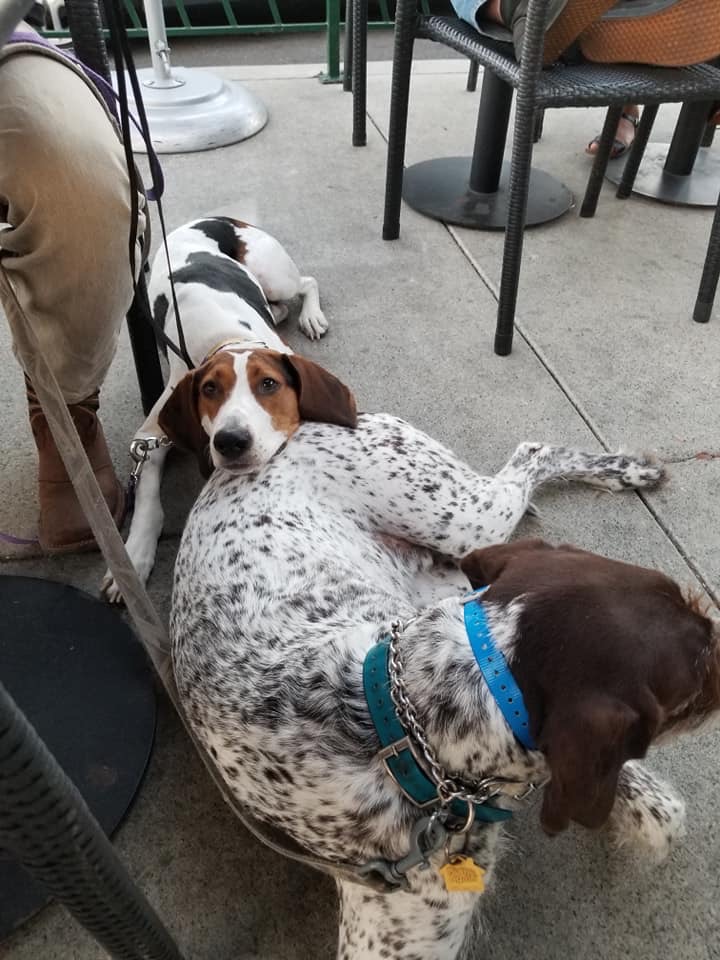 Whiskey
"Meet Whiskey! This sweet girl was rescued from Kentucky and we were told she has had at least three litters of babies in her short life. She was primarily used for breeding. She also came with Lyme disease from ticks! This is our first experience with a hound and we love it! She is a total goof and is super friendly. She and our pointer get along great!"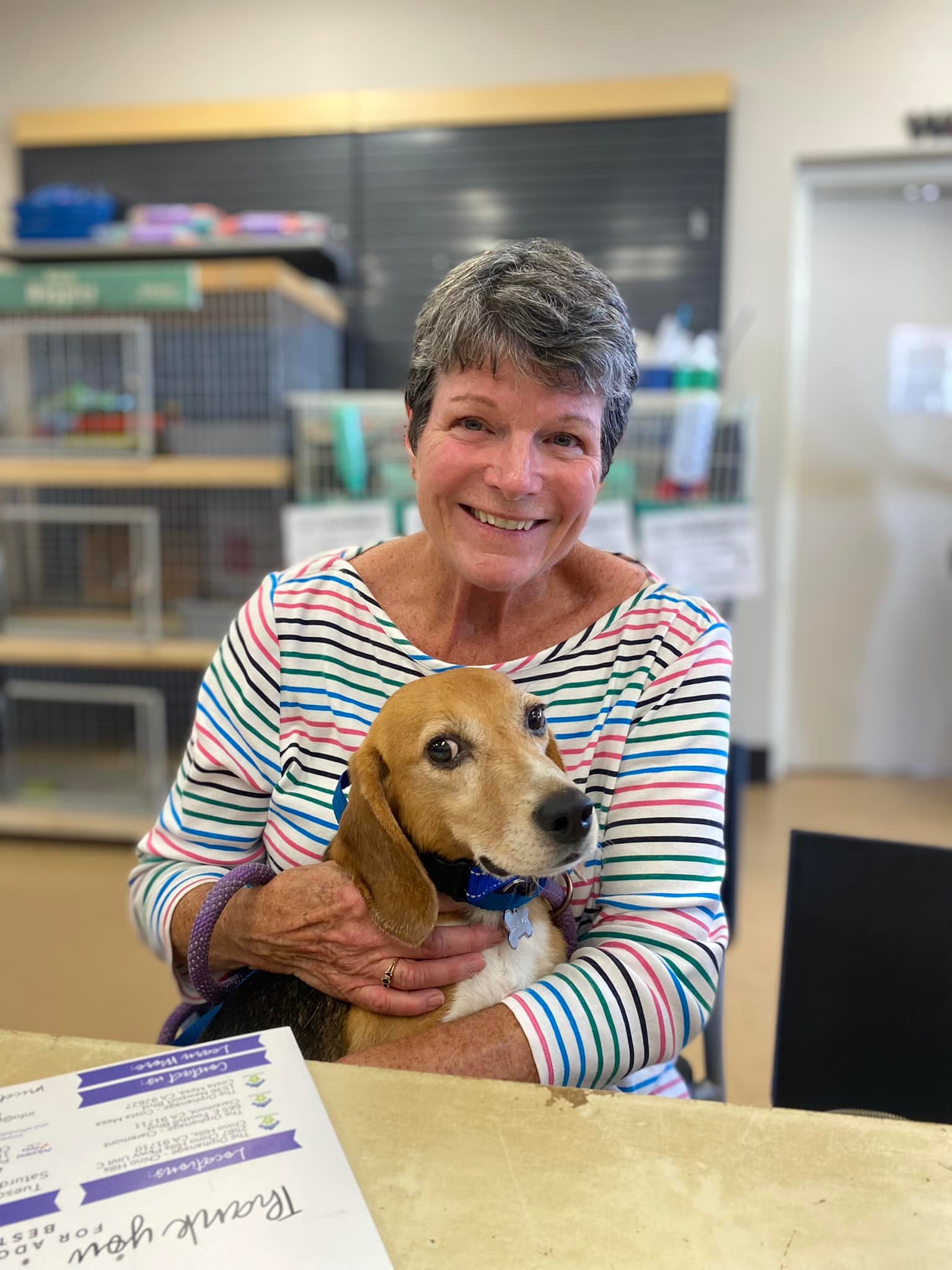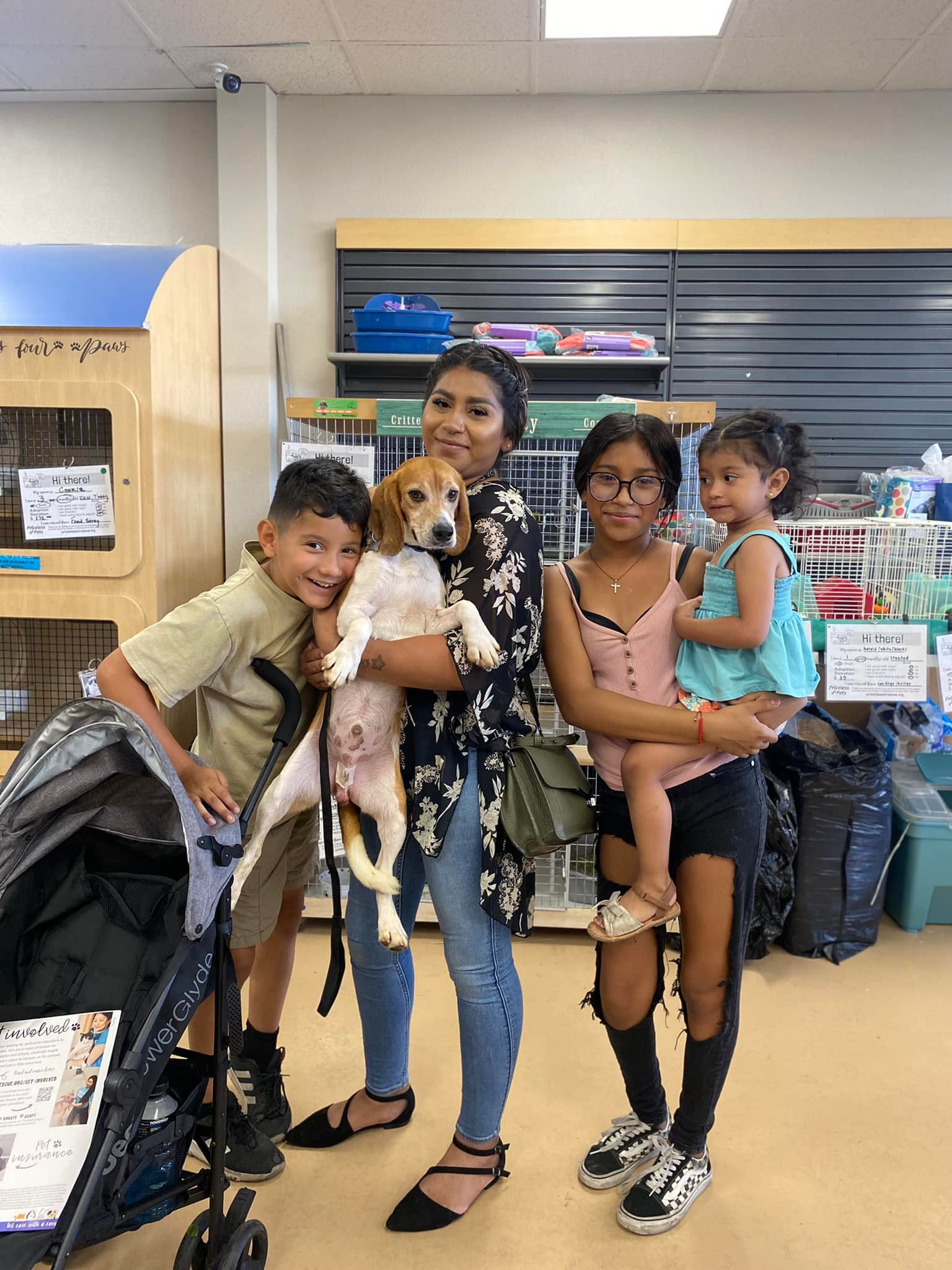 Meet some of our adopted Envigo Beagles! These beagles along with 200 others were rescued from the Envigo breeding facility in Virginia. After a long drive to Priceless Pets, they have all been adopted! We are so happy they are out of their cages and into loving homes. They can now learn how to be real dogs and are going to be showered in the love they deserve.